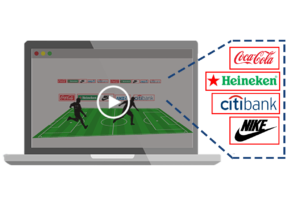 https://www.prnewswire.com/news-releases/orpix-announces-ai-solution-for-sponsorship-valuation-300692168.html
Orpix, an AI & computer vision company, announces the release of its AI solution for Sponsorship Valuation, which allows users to accurately and quickly evaluate sponsor exposure in a variety of digital media, including sporting events and popular social media sites.  This is done using a combination of state of the art logo detection using novel deep learning algorithms and a user-friendly web-based application. The solution can be deployed either on the cloud (AWS) or on-site. 
A report can be automatically generated with deeper insights for sporting events.  For a free report of the 2018 Fifa World Cup Final, click here.
Here's what just a few of our customers have to say:
"Orpix powers our television in-broadcast measurement effort and is an integral part of our unique approach to sponsorship research and evaluation.  We appreciate the continuing development of the system's capabilities, as well as the full support provided by the Orpix team." – Eric Wright, President and Executive Director of Research, Joyce Julius
"Orpix continually provides us with an evolving image recognition solution, always utilising technology enhancements in computer vision. Along with excellent support, they have helped us continue to improve our exposure monitoring process." – Mike Wilkinson, Operations Manager, Kantar Media
"Orpix provides us with a solution that delivers accurate detection and a flexible web application, allowing us to to deliver reports to our customers quickly and efficiently." – Jay Hébert, Co-Founder & Partner, Elevent
Aside from Sponsorship Valuation, Orpix also offers a Vehicle Make and Model Recognition API (VMMR), as well as a variety of custom domain specific solutions.  For more information visit our home page: www.orpix-inc.com.
About Orpix
Orpix was founded in 2009 by a group of engineers and researchers from UC San Diego who specialize in computer vision and machine learning. Among them, Co-founder and technical adviser, Professor Serge Belongie (Cornell Tech) is a leader in computer vision research. After years of successfully applying cutting edge research to a variety of domains, they started Orpix and developed a framework that is used to solve real-world image and video recognition problems.